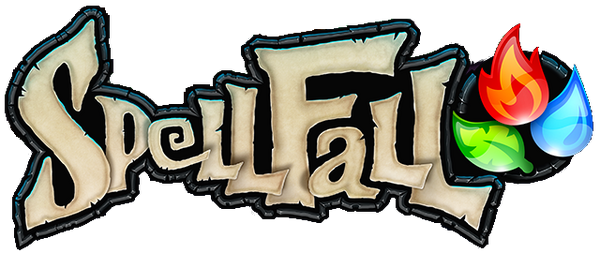 This log will be updated as changes to the content of SpellFall are made.
Update 1.6.0
---
Update 1.6.0 (14 January, 2015)
NEW content and challenges!!!
End game cinematic when you beat the final boss
New Game+ mode. Keep your stats and equipment, and play again with a higher level cap
Tons of new weapons and armors with new stats
Russian translations
Update 1.5.0
---
Update 1.5.0 (09 December, 2014)
Update 1.4.0
---
Update 1.4.0 (13 October, 2014)
Events! SpellFall can now offer events with special bonuses!
Pay COINS to resume interrupted daily reward progression.
NEW recapture design! Recapture starts with boss node and may spread throughout the area if unattened.
NEW unique items: the Light Claideamh. This weapon does extra damage to corrupt enemies.
NEW mystery box with chance to win unique items like the Corrupt Claideamh
Area bundles. Get great items tailored for the area you're in.
Tap on locked areas to see names and elemental affinity.
Fixed Facebook login bug.
New Icon
Update 1.4.1 (28 October, 2014)
Same description as Update 1.4.0
Update 1.3.0
---
Update 1.3 is not listed in the AppStore.
Update 1.2.0
---
Special Announcement (13 August, 2014)
Update 1.2.0 (12 August, 2014)
Free daily rewards including Epic Swords!!!
Localized in Japanese and Korean
Epic Swords available for purchase
New 'slayer' item stat
Special items can grow stronger along with player level
All loot dropped more powerful and valuable (oranges and purples are incredible!)
New item Quality: Gold
Ability runes have Bronze, Silver, and Gold visualization when applicable
Item card available during Victory Screen (tap item icon)
Overkill: text visualization when triggered
Special Announcement (14 August, 2014)
SpellFall was made an Editor's Choice in the Apple App Store
Part 2 (20 August, 2014)
Part 3 (3 September, 2014)
Special Announcement (12 September, 2014)
SpellFall is launched on Google Play in Canada!
Update 1.0.0
---
Update 1.0.0 (20 March, 2014)
Update 1.0.1 (31 March, 2014)
Update 1.0.2 (21 April, 2014)
Update 1.0.3 (27 May, 2014)
Free daily item via new Mystery Boxes
Upgrade the number of rune sockets for armor and weapons with coins.
Replenish the store with entirely new items.
NEW RUNES!!!

Stun Ability Rune - Stuns the enemy to give the player extra moves.
5 Weaken Ability Runes - Weakens the enemy to a specific element.
3 Charge Runes - Passive runes that increase ability charge rate when equipped.

Shuffle Ability now has 3 tiers. As the tier increases it shuffles more tiles on the board.
Transmute Ability auto-switches when appropriate, in case transmute creates new matches.
Increased level cap from 22 to 25.
New content! 4 new areas, more enemies, armors, and sounds.
New Board Effects! Prettier cascades, convert titles, spells, etc.
New Introductory Experience: Cinematic and Tutorials.
New UI displaying buffs or debuffs for each character and how long they will last.

For example, when the enemy is poisoned.

Improved communication in the store and inventory menus.
Items no longer auto-equip.
Future Updates
 To the SpellFall Wiki Users:
We do not know about what will be released in future updates.
We do not know when new content will be released.
We do not know when future updates will occur.
Information will only be posted once it has been released in the game.